It's hard to find cheap, high-quality cladding, but we're here to show you it's possible. With Cladding Monkey, discover hygienic wall cladding that is dependable, inexpensive, and easy to install. 
We can keep this cladding affordable whilst still using high-quality materials by using a thinned-down version of the well-known PVC panels in our core range.
For jobs that require high levels of cleanliness, browse our budget hygienic wall cladding. Aside from being easy to clean, it is also non-porous, making it resistant to the growth of bacteria and durable for long-term use.
Browse our selection of cheap, hygienic wall cladding below to reduce your costs without sacrificing quality.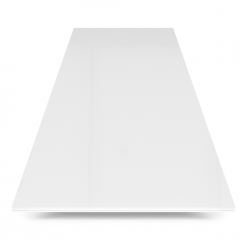 Budget Hygienic Wall Cladding
Budget Hygienic Wall Cladding
---
At Cladding Monkey, we ensure everyone has access to safe, affordable and easy-to-install wall cladding. To do so, we have devised a clever method of keeping costs low without compromising quality. Essentially, we have crafted a thin version of our premium cladding sheet. By coating PVC foam sheets with a thick PVC skin, we make them lighter and easier to work with than solid sheets. With this method, you can replicate the look and feel of solid hygienic wall cladding at a fraction of the cost. This cheap, hygienic wall cladding is smooth and wipeable, making it ideal for: Food prep areas Wetrooms Kitchens Storage areas Takeaways Bakeries In addition to being food grade, our double-skin PVC wall cladding is fire rated to Class 1 British Standards 476 Part 6/7 and boasts a medium impact strength. Check out our different sizes of white wall cladding to find the right fit for your space.