Cladding Monkey has been established for over 20 years supplying hygienic cladding to both the public and trade. Our customers range from the major retailers of Mcdonalds, Tesco, Nando's etc to your average small business owners of takeaways, care homes, kennels/catteries, sandwich shops, butchers etc.
Order online or if you need to collect come and visit us at our new 3000 sq ft showroom in Middlesbrough. Nationwide next day delivery is also available.
Hygienic Cladding For Any Project
Our hygienic cladding sheets are solid PVC throughout, very impact resistant and class 1 fire rated. The Cladding sheet is waterproof, making it easy to clean and suitable for sanitary environments. It has an extremely hard smooth finish and can be supplied with a wide range of finishing trims. We also stock a range of hygienic adhesives.

Restaurant Cladding
See our full range of commercial kitchen hygienic wall cladding which is easy to install, durable and available in over 20 different colours!

Hospital Cladding
Where a high degree of hygiene and cleanliness is essential, proven to help prevent the spread of bacteria growth and germs.

Kennel Cladding
We LOVE animals here at the Cladding Centre. Ask us about our 1.5mm solid PVC which is highly durable and easy to maintain.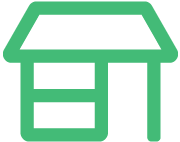 Shop Cladding
We also supply our commercial hygienic cladding for butchers shops, bakeries, takeaways, toilets & changing areas etc.