Not sure what colour you need?
We have colour sample boards available too!
The Best Prices On White Hygienic Wall Cladding

Class 1 Fire Rated
Safety First!
Approved by architects and meets all british safety standards. Class 0 fire rated BS 476, pt6 and BS 476, pt7. Data sheets avaiable in product sections.

Impact Resistant
Strong & Durable
HIGH impact resistantwith a HIGH chemical resistance to most commercial cleaning products. 20 year guarantee on all Roechling Trovidur products.

High Quality Finish
We Only Sell The Best
Roechling Trovidur EC Clad is a PREMIUM high quality market leading solid PVC hygienic cladding sheet available in a smooth matt or high white gloss finish
Hygienic Cladding For Any Project
Our hygienic cladding sheets are solid PVC throughout, very impact resistant and class 1 fire rated. The Cladding sheet is waterproof, making it easy to clean and suitable for sanitary environments. It has an extremely hard smooth finish and can be supplied with a wide range of finishing trims. We also stock a range of hygienic adhesives.

Restaurant Cladding
See our full range of commercial kitchen hygienic wall cladding which is easy to install, durable and available in over 20 different colours!

Hospital Cladding
Where a high degree of hygiene and cleanliness is essential, proven tohelp prevent the spread of bacteria growth and germs.

Kennel Cladding
We LOVE animals here at the Cladding Centre. Ask us about our 1.5mm solid PVC which is highly durable and easy to maintain.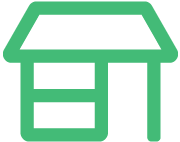 Shop Cladding
We also supply our commercial hygienic cladding for butchers shops, bakeries, takeaways, toilets & changing areas etc.